Pedro St James Castle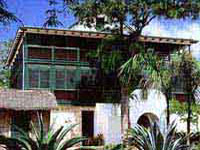 East of George Town is Pedro St James, the islands' oldest surviving building, originally built by an Englishman who arrived here in 1765. Local stories also associate it with the pirate Henry Morgan and a 17th-century Spaniard, Pedro Gómez. The house is touted as the islands' 'birthplace of democracy' - it was here in 1831 that the decision was made to vote for elected representatives, and four years later the Slavery Abolition Act was read here. Constructed around 1780 from quarried native stone, the house has been restored by the government as an historic site. Behind a traditional coral stone wall rises an authentic, three-storey early 19th-century great house and outbuildings, with traditional 'grounds' planted with pineapple, banana and other provisions. The adjacent acres are covered with luxuriant tropical plants, palm-lined walkways and a splendid manicured Great Lawn sprawling to a fantastic view over the Caribbean. A new 3D multimedia theatre shows a 20-minute film of the history of the castle, and there is a memorial to the victims of Hurricane Ivan.
Website: www.pedrostjames.ky
Telephone: (345) 947 3329
Opening times: Daily 9am to 5pm
Admission: CI$8 (adults), children 12 and under free with a parent.