Tarrytown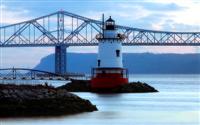 Tarrytown lighthouse © JMS2
Forty miles (64km) north of New York City is Tarrytown, known to Washington Irving fans as Sleepy Hollow. The setting in his story The Legend of Sleepy Hollow, the town is packed with historic homes and include both Irving's home and the impressive Rockefeller residence.
On the east side of the river is Hyde Park, where President Franklin D Roosevelt was born. The Franklin D Roosevelt Home and Library contains hundreds of photos and artefacts, including his specially-made car following his polio affliction in 1921.
It also houses the letter from Einstein which led to the development of the atomic bomb. Two miles (3km) outside Hyde Park is the Vanderbilt Mansion National Historic Site, a spectacular Beaux Arts mansion. A day in Tarrytown is a popular excursion from New York City.