Finger Lakes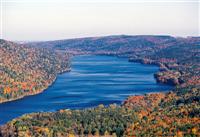 Canadice Lake, New York © VisitFingerLakes
The 11 narrow lakes that stretch north to south below Lake Ontario are the Finger Lakes. The lakes are popular for boating and fishing, and the rolling hills between them are interspersed with waterfalls, gorges, and parks, ideal for hiking, cycling, and cross-country skiing.
Native Americans believe the Finger Lakes formed when one of their Gods reached out to bless their region and left behind an imprint of his hand. The Finger Lakes region, formed by glaciers during the Ice Age, is one of the most important wine growing regions in the United States.
Most of the vineyards are located on the rolling hills of the Cayuga Wine Trail, overlooking the Cayuga Lake, and many offer tours and tastings. A variety of tourist accommodation is available in the region, from luxury lodges to campsites.