Shenandoah National Park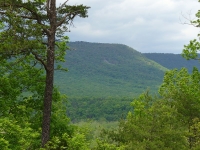 Shenandoah National Park © AlbertHerring, Virginia State Parks staff
Following the Blue Ridge Mountains for 100 miles (161km) through west Virginia, the Shenandoah National Park is a nature reserve where tens of thousands of animals, including deer and black bears, roam among about 100 species of trees on the forested slopes.
More than 500 miles (800km) of hiking trails snake through the area from the azalea-trimmed Skyline Drive, the 105-mile (169km) long road that runs through the park from the Piedmont Plateau, providing wonderful vistas of the Shenandoah Valley from its overlooks. Services and visitor centres are available on the drive, but are closed during winter.
Wildflower weekend is celebrated in May, and ranger-led tours and programmes are offered between April and October. There are also special activities for kids as part of a 'junior rangers' programme; a schedule is available from the park's website.
Address: 3655 U.S. Highway 211 East Luray
Website: www.nps.gov/shen
Telephone: (540) 999 3500
Admission: $25 vehicle, $20 motorcycle, $10 individual