Plaza de Armas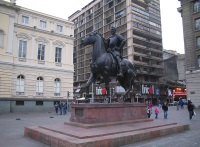 Plaza de Armas © Carlos yo
The Plaza de Armas is both the heart of Santiago and the city's historical centre, a square hemmed in by impressive Spanish colonial public buildings, including the 18th-century Cathedral and elaborate main post office that was once the Spanish governors' residence. As with most colonial squares of this kind, and as the name suggests, the Plaza de Armas was designed to be the open space in which the armed forces of the city could gather to parade and to protect Santiago's most important buildings.
The square became the hub of administrative, commercial and social life when the city was founded in 1541, and today it remains the centre of life in the city. Never a dull place to be by day, with its constant activity and throngs of people entertained by buskers and local artists, the evenings are just as lively when passers-by can become embroiled in chess games on temporary tables set up under the trees.
This square is the point from which all distances are measured in Chile, and the central point for the grid pattern of the streets. Visitors should be aware of their belongings here as it is a popular target spot amongst pickpockets. The square is a useful starting point for sightseeing in Santiago as many attractions are close by.