Pashupatinath Temple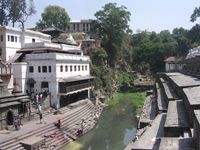 Pashupatinath Temple © JoonYoung Kim
One of the most sacred Hindu shrines in the world, the UNESCO World Heritage Site of Pashupatinath is one of the major temples devoted to Lord Shiva on the Indian subcontinent. It attracts thousands of Hindu pilgrims each year, with Shiva being the patron deity of Nepal.
The Temple of Pashupatinath is renowned for its beautiful architecture and stands on the banks of the holy Bagmati River, a tributary of the Ganges. Other temples, shrines, statues, and pagods surrounded this large temple complex, which can take some time to explore. The temple buildings are closed to non-Hindu visitors but the grounds are not.
Shiva devotees and holy Hindi ascetics called sadhus roam the complex in great numbers, meditating and praying on the steps throughout the temple. One of the richest temples in Nepal, it received a great deal of wealth from kings and aristocrats in devotion to the god.
The complex is also home to Kathmandu's funeral ghats, a series of cremation platforms spread along the river where the bodies of Hindus are burnt and the ashes scattered into the holy river. Tourists should be respectful when witnessing these cremation ceremonies and particularly cautious about taking photographs.
Address: Three miles (5km) east of Kathmandu, in Deopatan
Admission: NPR 1,000