Boudhanath Stupa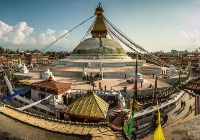 Boudhanath Stupa © GONG Jie
The Boudhanath Stupa is the largest in the Kathmandu Valley, standing about 131 feet (40m) tall. It's one of the biggest and most important Buddhist stupas in the world. The all-seeing red, white, and blue eyes of the Buddha are painted on all four sides of the stupa, similar to Swayambhunath.
Hundreds of fluttering prayer flags, prayer wheels, and small images of the Buddha surround the building. It is central to the Tibetan culture in Nepal and said to date back 500 years, although there is some debate about the exact date of construction.
The Boudhanath Stupa is on the ancient trade route from Tibet to Nepal, and Tibetan pilgrims and merchants have been praying at the site for centuries. The influx of Tibetan refuges has led to more than 50 Tibetan monasteries built around the stupa. It's a UNESCO World Heritage Site and one of the most popular tourist attractions in Kathmandu.
It is conveniently close to the city, located just 6.8 miles (11km) outside Kathmandu. Buddhist festivals cause a flurry of activity at the stupa, with thousands of pilgrims joining together in the sacred rituals, such as the Tibetan New Year, or Lhosar, in February every year.
Admission: NPR 250 for adults (waived if you are staying at one of the hotels located near the stupa).