Chilean Museum of Pre-Columbian Art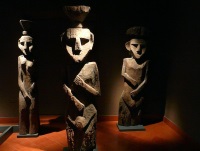 Chilean Museum of Pre-Columbian Art © Bkwillwm
The Chilean Museum of Pre-Colombian Art is housed in the old Royal Customs House in Santiago. The collection is impressively large compared to many other museums in a similar vein, and it spans 4,500 years and about 80 pre-Colombian civilisations of South America. The Museo Chileno de Arte Precolombino, as it is known to locals, is a fascinating place to spend a few hours and is a great find for art and archaeology enthusiasts.
The exhibits are beautifully curated throughout four rooms set around a central courtyard. The collection provides an informative insight into the cultures of the Incas, Mayans, Aztecs and other proud civilisations of the continent, illustrating their artistic diversity and advancement.
It is worth paying extra for a guided tour though, because the labels are not translated into many languages and are not as comprehensive as some might like. Having said that, the museum is a worthwhile attraction in Santiago, especially if travellers are not familiar with the intriguing ancient cultures on display.
Address: Calle Bandera 361
Website: www.precolombino.cl/en