Annapurna Region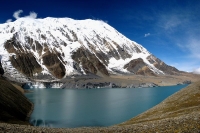 Tilicho Lake © Ester Inbar
The most popular region for trekking in Nepal, the Annapurna region passes through some of the most spectacular scenery in the country. It has deep valleys, ancient stone settlements, Tibetan culture, Buddhist temples and monasteries, and mountains over 22,966 feet (7,000m) tall.
Excellent lodges line the main routes of the Annapurna Circuit, the Annapurna Sanctuary, and the Jomsom trek to Muktinath. The Annapurna Circuit is one of the most walked treks in the country and is one of the most exceptional routes on earth, crossing Thorong-La pass at 17,769 feet (5,416m) and requiring about three weeks to complete.
The Sanctuary requires about 10 days and is a direct route straight to the heart of the Himalayas, where tremendous sheer-walled peaks of 19,685 to 26,247 feet (6,000 to 8,000m) encircle the reverent trekker at the Annapurna Base Camp.
Easily accessible via a short flight from Pokhara or Kathmandu, Jomsom is a town situated between two gigantic mountains in the Kali Gandaki Valley, at the bottom of the world's deepest gorge.
From Jomsom, there are options to walk in either direction along the Annapurna Circuit. The trek to the holy shrine at Muktinath is very popular and follows the ancient trade and pilgrimage route across the Himalayas.