Mount Everest Region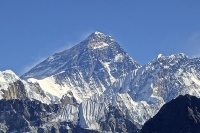 Mount Everest © Rdevany
The sight and challenge of the highest mountain the world draws trekkers and mountaineers from across the world. They set out to explore the Sagarmartha National Park in the northeast of Nepal, even if not attempting an ascent.
The Sagarmartha National Park is a UNESCO World Heritage Site, containing a mixed terrain of deep gorges, glaciers, and rocky landscapes. Home to some interesting fauna and flora, the alpine vegetation nevertheless gives way to bare rock and snow as the altitude increases.
Most trekkers fly to the airstrip at Lukla at an altitude of 9,350 feet (2,850m) from where the trek begins to Everest Base Camp. From Lukla, the trail winds up the Dudhkoshi River Valley to the famous Sherpa village of Namche Bazaar.
Above Namche, travellers will find the smaller traditional villages of Khunde and Khumjung, and across the canyon from Khunde is the fascinating Tengboche Monastery, one of the highlights of the area. Visitors will find lodges and campsites at the monastery.
By flying in and out, the trek requires about two weeks. It's also possible to walk in but this requires much more time. Multi-day treks in the region are a wonderful opportunity to observe and participate in the daily life of the Sherpa people, and of course, the views and landscapes are breath-taking.