Mercado Central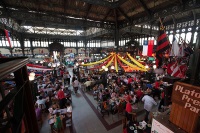 Mercado Central © Matthew Roth
Santiago's colourful Mercado Central, housed in an 1872 wrought iron structure, has a fruit and vegetable market as well as a buzzing fish market where an assortment of glistening fish is packed onto the tables. Mussels, oysters and clams sit in buckets among an unidentifiable variety of crustaceans and tentacled creatures. The fishmongers demonstrate their skill at gutting and filleting amid a cacophony of frenzied buying. The best time to visit is at lunchtime when a delicious sampling of the wares can be enjoyed in the happily chaotic atmosphere of the central hall.
There are many restaurants to choose from and often the smaller ones are the best - and a bit cheaper. Mercado Central can be a bit expensive now because its popularity with tourists has grown so be on the look out for bargains. It is crowded and chaotic, but the seafood is excellent and fresh, the architecture is interesting, and there is a festive feel to the place (partly thanks to the street musicians who frequent it). It is essentially a food market but there are usually some vendors selling souvenirs, jewelry and the like as well. Stay aware at all times of your possessions because markets of this kind are a favorite for pickpockets.
Address: Corner of Calle Puente and Calle San Pablo
Transport: Metro to Puente Cal y Canto
Opening times: Daily 6am-4pm.