Bridgewater Hall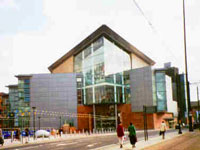 Situated on an arm of the Bridgewater Canal, the world-class £42-million concert venue Bridgewater Hall holds over 250 performances a year and is home to one of Britain's longest-running orchestras, the Hallé Orchestra. This architecturally striking building can house just under 2,500 audience members and the main auditorium is centred around a remarkable 5,500-pipe organ. The Hall plays host not only to classical music, but has also seen a range of popular music artists such as the legendary James Brown, indie artist Badly Drawn Boy and guitarist John Williams. Bridgewater Hall is also home to the award-winning Charles Hallé restaurant, as well as the Stalls Café Bar.
Address: Lower Mosley Street
E-mail: admin@bridgewater-hall.co.uk
Website: www.bridgewater-hall.co.uk
Telephone: (0)161 907 9000 (bookings)
Transport: Accessible by car, bus or train. Nearest train stations are Deansgate and Oxford Road
Opening times: Booking office is open from Monday to Saturday, from 10am to 6pm (8pm on concert nights), and on Sundays (concert nights only) from 12pm to 8pm. Closed on non-concert Sundays.
Admission: Concert prices vary, guided tours cost £5.