Sighisoara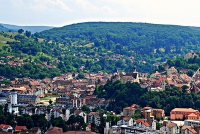 Sighisoara © MarculescuEugenIancuD60Alaska
Sighisoara is a beautifully preserved medieval town, renowned as the birthplace of 'Dracula', or Vlad the Impaler. It is also a UNESCO World Heritage Site and one of the seven fortified towns founded by the Saxons in the hills of Transylvania. The hilltop citadel dominates the town with the original medieval settlement enclosed within the fortress walls, surrounded by nine surviving towers.
Within the old town, the narrow cobbled streets and steep alleyways, brightly-painted, lopsided houses, ancient churches, stone archways, and covered stairways are watched over by the striking Clock Tower, the control tower of the main gate with magnificent views over the whole town and countryside. At the foot of the Clock Tower is the simple yellow building where Vlad was born and lived with his father, Vlad Dracul, and is marked by a hanging wrought-iron dragon. It now houses a restaurant with medieval furnishings.
The ancient cobblestone street that passes beneath the Clock Tower leads to the lower town, and although shabbier than the citadel, it has some interesting little shops where 'Vampire Wine' and locally made products can be bought. There are also lively markets here and pretty stone squares where townsfolk gather to chat animatedly about daily affairs. Every year in July the town is host to the Sighisoara Medieval Festival, one of Romania's biggest and most popular festivals.