Bristol Cathedral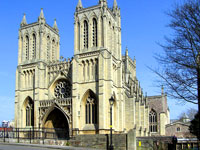 In roughly 1140, the Abbey of St Augustine was founded by Robert Fitzhardinge. Over the years, the Abbey was altered, eventually becoming the model of the 'Hall Church' style in England. When the Abbey was finally dissolved in 1539, the nave was demolished and rebuilt, and became what is now the landmark Bristol Cathedral. The original Abbey Gatehouse and the Chapter House (which dates back to 1165) remain, and visitors can enjoy the beauty and peace of this ancient holy site and its surrounds. The Cathedral also hosts free music recitals at certain times of year. Public guided tours of the Cathedral are available most Saturdays, from 11.30am.
Address: College Green
E-mail: reception@bristol-cathedral.co.uk
Website: www.bristol-cathedral.co.uk
Telephone: (0)117 926 4879
Transport: Accessible by car, train or ferry
Opening times: Open daily, from 8am until after Evensong.
Admission: Free, but donations are appreciated if you take a guided tour of the Cathedral