Bristol City Museum and Art Gallery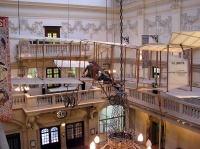 The Bristol City Museum and Art Gallery is an impressive collection of exhibits, objects and artwork, housed in a beautiful Edwardian Baroque building. As well as the permanent exhibits of regional, national and international artefacts, the museum hosts a range of temporary exhibitions and has a variety of different periods of artworks on display in its galleries. From natural history to the World Wildlife Gallery, decorative arts collections and archaeological displays, the Bristol City Museum and Gallery has something for everyone. The museum and gallery also plays host to various special events, workshops and children's activities throughout the year. Budget at least two or three hours to take it all in.
Address: Queens Road
E-mail: general.museum@bristol.gov.uk
Website: www.bristol.gov.uk/node/2904
Telephone: (0)117 922 3571
Opening times: Open Monday to Friday from 10am to 5pm, and on weekends and bank holidays from 10am to 6pm.
Admission: Free