Western Heritage Center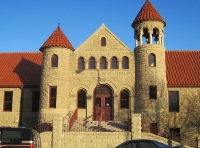 The Western Heritage Center in Billings © ALH
The Western Heritage Center in downtown Billings, affiliated to the Smithsonian Institution, has a collection of more than 16,000 artefacts documenting the life, culture and history of the Yellowstone River Valley. The centre's constantly changing gallery exhibitions draw around 22,000 visitors a year. The centre also hosts activities like storytelling hours, lectures, and scavenger hunts. Be sure to check the website for schedules.
Address: 2822 Montana Avenue
Website: www.ywhc.org
Telephone: (406) 256-6809
Opening times: Tuesday to Saturday 10am-5pm; closed Sundays, Mondays, and major holidays.
Admission: $5 adults, $3 seniors and students, $1 children under 12.