Wadsworth-Longfellow House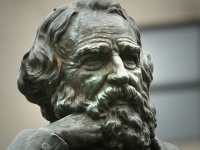 Henry Wadsworth-Longfellow © David
Built between 1785 and 1786, the Wadsworth-Longfellow house was home to three generations of a Portland family that formed an integral part of the cultural, political, and literary life of New England and the rest of the country.
Revolutionary War General Peleq Wadsworth was its first inhabitant and Anne Longfellow Pierce, younger sister of poet Henry Wadsworth-Longfellow, was its last. It was Anne's foresight that left the house, grounds and furniture to the Maine History Society, allowing public access.
The house was the first brick building in Portland and visitors can enjoy a ramble through the three-storey house, containing effectively all original furniture and artefacts, and the Maine Historical Society Museum. Several different tours are also available throughout the year.
Address: 489 Congress Street
Website: www.mainehistory.org/house_overview.shtml
Telephone: (207) 774 1822
Opening times: Museum: Monday to Saturday 10am-5pm, Sunday (May to October) 12pm-5pm.
Admission: $15 adults, $4 children. Concessions available.