International Rose Test Garden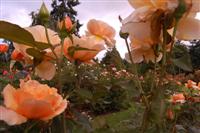 International Rose Test Garden © Shubert Ciencia
The International Rose Test Garden is the foremost of the famous rose gardens of Portland, founded in 1917 during World War I. It began when hybridists sent roses from around the world to keep them safe from the bombing in Europe.
Since then, the garden has served as a testing ground for new varieties. Fountains, paths, and statues enhance more than 7,000 rose bushes, representing some 550 varieties. Trained volunteers offer free tours.
Highlights of the garden are the award-winning miniature roses planted along the centre aisle, the Shakespeare Garden in the southeast corner, and the Frank L Beach Memorial Fountain, designed and built by local artist Lee Kelly. The Rose Test Garden is the centrepiece of the Portland Rose Festival, held each spring in Portland.