International Rose Test Garden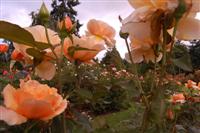 The foremost of Portland's famed rose gardens, the International Rose Test Garden was founded in 1917 during World War I, when hybridists sent roses from around the world to keep them safe from the bombing in Europe. Since then the garden has served as a testing ground for new varieties. The 7,700 rose bushes, representing 550 varieties, are enhanced by fountains, paths and statues, with free tours offered by trained volunteers. Highlights of the garden are the award-winning miniature roses planted along the centre aisle, the Shakespeare Garden in the southeast corner, and the Frank L Beach Memorial Fountain, designed and built by local artist Lee Kelly. The Rose Test Garden is also the centrepiece of the Portland Rose Festival, held each spring in Portland.
Address: 850 SW Rose Garden Way (Washington Park)
Website: www.rosegardenstore.org
Telephone: (503) 823 3636
Transport: MAX train to Washington Park Station, and then Bus 63.
Opening times: Daily 7:30am to 9pm; tours at 1pm Tuesdays and Saturdays (May to September). Store hours: 10am to 4pm.
Admission: Free