Oregon Zoo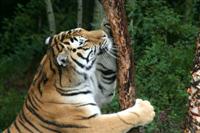 The award-winning Oregon Zoo is the oldest zoo west of the Mississippi, founded in 1887. It covers 64 acres and is home to a vast variety of animals, including Asian elephants, Peruvian penguins and Arctic polar bears. All are housed in their natural habitats, and the zoo is also an internationally recognised centre for wildlife preservation and research. Combined with a programme of summer concerts, a variety of seasonal events and an olde worlde railway ride which connects to Washington Park, the zoo is Portland's favourite attraction, drawing around a million visitors a year.
Address: 4001 SW Canyon Road
Website: www.oregonzoo.org
Telephone: (503) 226 1561
Transport: The zoo is on the MAX light railway route, and bus 63 goes to Washington Park from Main Street in downtown Portland
Opening times: Open daily, in Winter (1 January to 28 February) from 10am to 4pm; in Spring (1 March to 27 May) from 9am to 4pm; in Summer (28 May to 5 September) from 9am to 6pm; in Fall (6 September to 31 December) from 9am to 4pm. Note that the grounds will close one hour after admissions close for the day
Admission: $10.50 adults, $7.50 children 3-11. Other concessions available.