Lan Su Chinese Garden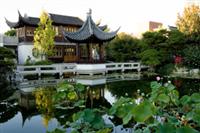 Named the 'Garden of Awakening Orchids', this walled classic garden in Portland's Chinatown is a replica of traditional gardens found in Suzhou, Portland's sister city in China. It combines the elements of water, stone, architecture, literature and plants to create balance and harmony. The garden is both a living museum of flora and fauna and a cultural heritage garden, containing interesting specimens like Chinese paper bush, water daphne, and Chinese plum. The classical tea house in the evocatively named Tower of Cosmic Reflections offers a tactile experience of the art and culture of Chinese tea.
Address: 239 NW Everett Street
Website: www.lansugarden.org
Telephone: (503) 228 8131
Transport: Accessible by MAX train, at the Old Town Chinatown stop; or by buses 1, 4, 5, 8, 10, 16, 33, 40, and 77
Opening times: Daily from 10am to 5pm (1 November to 31 March), 9am to 6pm (1 April to 31 October). Open until 8pm every Monday in July and August
Admission: $9.50 adults, $7 children 6-18. Other concessions and group rates available.