Pearl District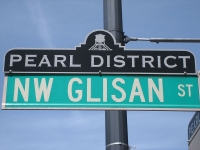 Pearl District, Portland © AtlasPDX82
The trendiest neighbourhood in downtown Portland, the Pearl District is the place to see and be seen. The district was once a decaying industrial area, but today the old buildings have come alive with new purposes.
Old warehouses have been turned into desirable loft residences and the streets are lined with restaurants, cafes, wine bars, upmarket shops, and art galleries. Gallery walks occur on the first Thursday of each month.
The Pearl is also home to Portland's iconic Powell's Bookstore, arguably one of the finest in the entire country. The Pearl District is well worth a visit, especially for those interested in urban renewal and sustainable redevelopment.
Website: explorethepearl.com