Parque Nacional Torres del Paine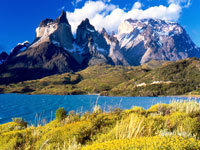 Parque Nacional Torres del Paine © Miguel Vieira
A UNESCO Biosphere Reserve, this 180,000-hectare (442-acre) park is the pride and joy of southern Chile. The park takes its name from the towering granite pillars that rise over 6,560 feet (2,000m) above the Patagonian plains. It is a hiker's paradise with many excellent, well-developed trails that traverse astounding changes in scenery. The hikes consist of several circuits which vary in length and difficulty; there are very competent and informative guides available, but unaccompanied hikes are also allowed.
This amazing freedom is part of the appeal of the wilderness area for adventurers. Turquoise lakes and roaring waterfalls, forests and magnificent rambling glaciers, icy rivers, daisy-filled meadows, harsh mountain passes and plenty of wildlife, including the protected guanaco (wild relative of the llama), are some of its attractions.
Visitors can also try their hand at outdoor activities like horseback riding, sailing and kayaking, rock climbing and fly-fishing. Two famous areas within the park are the French Valley and Silence Valley (only accessible with a guide). The sunrise hike to the towers that give the park its name is also highly recommended. For many people the world over the Parque Nacional Torres del Paine features prominently on their bucket list.
Website: www.torresdelpaine.com/ingles/index.asp
Telephone: (0)61 247 845 (CONAF)
Opening times: Open year round 8:30am-8:30pm.