Ethan Allen Homestead and Museum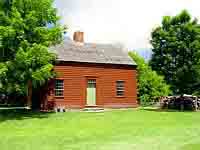 Ethan Allen Homestead ©
One of Burlington's earliest inhabitants, Ethan Allen, was a charismatic backwoodsman-turned-statesman originally from Connecticut. In capturing Fort Ticonderoga during the Revolutionary War, and as the leader of the Green Mountain Boys, he secured his position as a folk hero and founder of Vermont.
A man of many talents, Allen was also a philosopher and Deist, publishing Reason the Only Oracle of Man. Interestingly, Ethan Allen's brother Ira was founder of the University of Vermont in 1791.
Visitors to the homestead can enjoy a wander through the 18th-century home, interesting exhibits and access to the beautiful grounds. The house itself is a small frame house built in the Cape Cod style, and for many years existed in complete obscurity.
More recently much research has been done on both the house and Ethan Allen, and the house has beenadded to the list of Burlington landmarks by the burlington Historic Sites Board. In addition to historical interest, the house's grounds provide lovely trails for hiking and picnicking.
Address: 1 Ethan Allen Homestead
Website: www.ethanallenhomestead.org
Telephone: (802) 865-4556
Opening times: Tours available 10am-4pm by appointment Thursday to Monday (May to October); last tour leaves at 3:30pm.
Admission: $7 adults, $3 children 3-6 years. Concessions available.