Lake Champlain Chocolates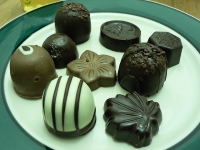 Lake Champlain Chocolates © stu_spivack
Lake Champlain Chocolates began as a challenge from a restaurant owner, Jim Lampman, to his pastry chef in 1983. In response to the pastry chef's criticism of a box of fancy chocolates, Jim told him to see if he could do better. As it turns out, he could, and within weeks Jim was serving flavoured, hand-rolled truffles to guests at his restaurant.
The word soon spread throughout the town, and inhabitants began to badger Jim for more of his chocolates. When he gave in, it was initially just to open a small wholesale operation, but the business continued to grow in popularity beyond Jim Lampman's expectations.
Today, Lake Champlain Chocolates encompasses a handful of dedicated shops and a factory. And indeed, what could be more tempting than the thought of delicious, handmade chocolates and the chance to enjoy free samples? The line of chocolates and other products produced at the factory includes the famous truffles, caramels, hot chocolate, Five Star Bars, organic chocolates, novelties, and more. Lake Champlain Chocolates are all made on location in small batches where visitors can see how chocolates are made and enjoy the tastes and smells of the factory.
Address: 750 Pine Street
E-mail: info@lakechamplainchocolates.com
Website: www.lakechamplainchocolates.com
Telephone: (800) 465 5909