Lake Champlain Cruises and Ferries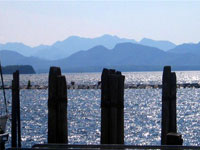 Lake Champlain ©
Perhaps one of the best ways to enjoy the USA's sixth largest lake is to take a cruise with Vermont's top Luxury Cruise boat, Northern Lights. There are a number of different options available, from themed sunset Dinner cruises (June to August), brunch or lunch cruises daily, or scenic cruises (June to October). Enjoy local music provided by live bands and enjoy a dinner/dance on an entertainment cruise, or simply soak up the beauty of the lake and its surrounds. Another option (though more pedestrian) is to catch a ferry.
Address: Northern Lights Cruises: 1 King Street
Website: www.lakechamplaincruises.com
Telephone: Northern Lights Cruises: (802) 864 9669
Admission: Cruise rates vary, check the website for specific rates.