Ben and Jerry's Ice Cream Factory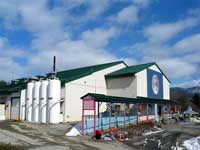 Ben and Jerry's Ice Cream Factory © Jared C Benedict
In 1978, Ben Cohen and Jerry Greenfield managed to use the knowledge from a $5 correspondence course on ice cream making to create a multi-million dollar company. Today travellers can enjoy a trip out to the Ben and Jerry's Factory in Waterbury and get a chance to see how the famous treats are made and sample their mouth-watering flavours.
The tours start off in the Cow Over the Moon theatre with a short documentary on the company's history. From there, visitors are taken to the factory mezzanine to observe the ice cream production in progress and to be instructed on how the process works. Finally, visitors are allowed to sample the flavour of the day.
During the summer, visitors can stroll through the cow pasture, the Flavor Graveyard, and can also bring a picnic along to enjoy on the picturesque grounds. A full-service Scoop Shop is available on-site so that visitors can end off the day with a few scoops of the famous ice cream. Tours of the factory are conducted daily.
It is worth noting that ice cream is only produced from Monday to Friday, so on weekends, a short movie is screened instead. Further events are hosted throughout the year, such as the Free Cone Day, the Summer Movie Festival throughout the months of July and August, and the Halloween Festival.
Address: 1281 Waterbury-Stowe Road, Waterbury
Website: www.benjerry.com
Admission: $4 adult, free for children.