Twyfelfontein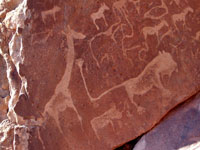 Twyfelfontein © Judith Duk
Due to the presence of water in this arid region, theorists believe the site has been inhabited for at least 6,000 years. First saw the coming of hunter-gatherers, while Khoikhoi herders settled later. Both used the site for sacred rituals, leaving behind around 2,500 rock carvings and paintings.
Twyfelfontein boasts the largest concentration of ancient rock art in the country, and is a UNESCO World Heritage Site. The petroglyphs primarily depict game animals such as giraffe, antelope, elephant, and lion, and the oldest carvings may date back 10,000 years. Most are believed to be around 3,000 years old.
Translated as 'uncertain fountain', Twylfontein got its name from a farmer who doubted the spring's ability to sustain their cattle for a long period. Visitors can't enter the site without a guide due to previous vandalism.
The uniquely-designed visitor information centre features an exhibition, kiosk, and souvenir shop. Other stunning sights in the area around Twyfelfontein include the Organ Pipes, the Doros Crater, and the Petrified Forest.