Musée Léon Dierx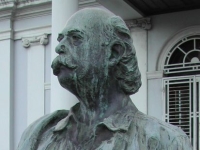 The Musée Léon Dierx in Saint-Denis houses an impressive collection of Modern Art, with works by some of the great masters of the genre such as Gauguin, Matisse, Picasso, Vlaminck and Morisot. Much of the collection was once that of the French art dealer, Réunion-born Ambroise Vollard, and was donated to the museum by Vollard's brother, Lucien, after Ambroise's death in 1939. The Museum is a must for art lovers, and the curious, alike.
Address: 28 rue de Paris
E-mail: musee.dierx@cg974.fr
Telephone: +33 262 202 482
Opening times: Tuesday to Sunday 9:30am-5:30pm.