Natural History Museum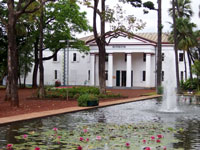 The Museum d'Histoire Naturelle (Natural History Museum) opened its doors in 1855 and was the first of its kind in the Indian Ocean. The museum houses fascinating exhibits of the region's creatures, from shells to rare birds and mammals, as well as books and engravings. In 1945 and 1948, cyclones destroyed much of the museum's collection and it was forced to close its doors for several years, but today it boasts roughly 42,000 specimens. The museum is within the State Gardens (Jardin de l'Etat) - a beautiful botanical garden home to roughly 50 species of trees from around the world and numerous beautiful plants, ponds and walkways. A particular favourite in the gardens are the flowering lotus plants.
Address: 1 rue Poivre, Jardin de l'Etat
E-mail: museum@cg974.fr
Telephone: 200 219
Opening times: Monday to Saturday 10am-5pm.