Perito Moreno Glacier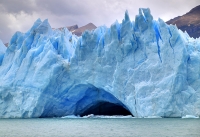 Perito Moreno Glacier © Martin St-Amant
Situated in Los Glaciares National Park, a UNESCO World Heritage site, the breathtaking Perito Moreno Glacier is nearly 19 miles (30km) in length and spreads over an area of 97 square miles (250 sq km). The spectacular, blue-white ice formation is one of the only glaciers in the world that is growing, at a rate of seven feet (2m) per day. Visitors can marvel at the site of the glacier 'calving': enormous chunks of ice breaking off into the water with a deafening crash, creating icebergs and causing large waves.
The glacier is also world renowned for its unique rupturing process; at certain periods the glacier's front reaches the coastal border of the lake, blocking off the flow of water from the Andes and causing its waters to rise by about 66 feet (20m). When the pressure is too much, the dam of ice cracks and shatters, sending icebergs downstream. Ruptures like this occur on average every four to five years, although sometimes as often as every other year; the most recent rupture occurred in March 2016.
The closest town to this natural wonder is El Calafate in Argentina's Santa Cruz Province, which is about two hours' drive away. There are regular buses from El Calafate to the glacier. Tour companies operating from El Calafate offer trekking trips that take visitors out onto the glacier's ice, for anywhere from one to five hours.
Address: Los Glaciares National Park
Website: www.losglaciares.com
Telephone: Los Glaciares National Park Administrative Centre: (0)2902 491 005