Palais du Prince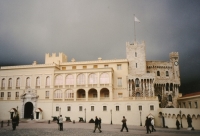 Palais du Prince © Slawojar
Established in the 13th century, Monaco's royal palace has been the residence of the ruling Grimaldi family ever since. The most famous resident was Grace Kelly, who was married to Prince Rainier III.
Every generation has left their mark on the place. As a result, this is not one of Europe's most elegant castles from the outside. It is worth taking a look inside though. 15 rooms, including the Throne Room, are open to the public.
In the south wing of the palace is the Musée des Souvenirs Napoléoniens, containing a collection of Napoleon's memorabilia. The changing of the guard takes place in front of the palace every day, lasting just two minutes. So take care to be on time.
Address: Place du Palais
Website: www.palais.mc
Telephone: 9325 1831
Transport: Monaco Bus line 1 or 2 to the Place de la Visitation bus stop (signed Terminus Monaco-Ville)
Opening times: State apartments: 9:30am-6:30pm (1 June to 30 September), 10am-5pm (October). Changing of the Guard: 11:55am.
Admission: State apartments: €8 (adults), €4 (children 6-14).