Oceanographic Museum and Aquarium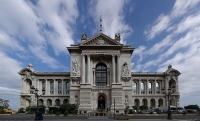 Oceanographic Museum and Aquarium © Berthold Werner
Prince Albert I opened Monaco's Oceanographic Museum and Aquarium in 1910. It houses his personal collection of marine life, models of his laboratory's ships, and other crafts made from marine products.
The imposing building is perched dramatically on a cliff and faces the sea, providing lovely views. The basement houses an impressive aquarium with over 4,000 fish species and 200 invertebrates, as well as the Shark Lagoon.
Address: Avenue Saint-Martin
Website: www.oceano.mc
Telephone: 9315 3600
Opening times: Daily 10am-6pm (October to March); 10am-7pm (April to June, and September); 9:30am-8pm (July and August).
Admission: €16 (adults); €12 (children 13-18); €8 (children 4-12)