Oceanographic Museum and Aquarium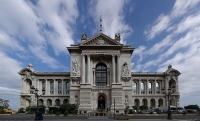 Oceanographic Museum and Aquarium © Berthold Werner
Monaco's Oceanographic Museum and Aquarium was opened by Prince Albert I in 1910 and houses his personal collection of marine life, models of the Prince's laboratory ships and other crafts made from marine products. The imposing building is perched dramatically on a cliff and faces the sea, providing lovely views. The basement houses an impressive aquarium with over 4,000 fish species and 200 invertebrates, as well as the Shark Lagoon.
Address: Avenue Saint-Martin
Website: www.oceano.mc
Telephone: 9315 3600
Opening times: Daily 10am-6pm (October to March); 10am-7pm (April to June, and September); 9:30am-8pm (July and August).
Admission: €14 (adults); €10 (children 13-18); €7 (children 4-12)