Bazaruto Island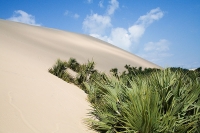 Bazaruto Island © Julien Lagarde
The largest island in the archipelago, Bazaruto Island is about 23 miles (37km) long and four miles (7km) wide, surrounded by magnificent stretches of white sand. Enormous sand dunes comprise the eastern strip, while the interior contains large freshwater lakes inhabited by crocodiles and frequented by a wide variety of water birds, including flamingos.
On the northern tip of the island is a lighthouse built by the Portuguese over 100 years ago, which signals to the large number of ships travelling the historic Mozambique Channel and affords spectacular views from its tower.
World famous for its large game fishing, Bazaruto is a popular diving destination with a rich variety of marine life surrounding the island. The Bazaruto Marine National Park offers coral reefs, crystal-clear waters, and diverse underwater life.
Reef sharks, dolphins, manta rays, and turtles are regular visitors to these waters, and the turtles lay their eggs on the beaches of the island. Humpback whales can be found between August and October, and whale sharks between April and July.
Tourist facilities, upmarket lodges, and exclusive resorts dot the island and most gear themselves towards luxury tourism. Bazaruto is accessible by boat or plane from Vilanculos.