Benguerra Island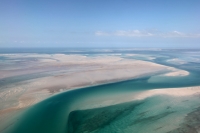 Bazaruto Archipelago © Richard Moross
Benguerra is the second largest island of the Bazaruto Archipelago, less than half a mile (1km) south of Bazaruto. Like its neighbour, Benguerra boasts stunning beaches, large sand dunes, and freshwater lakes.
Its forest and wetland areas attract a huge variety of birds and animals, while its surrounding reefs offer some of the best diving and snorkelling opportunities on the African continent. Two-mile Reef is to the east of Benguerra.
Its protected lagoon, known aptly as the Aquarium, is an underwater paradise with beautiful corals and a wealth of tropical fish, popular with both divers and snorkellers. People will find the famous Pansy shells along the sandbanks to the north of the island.
Most visitors go to Benguerra for the big game fishing as its deep waters teem with the likes of marlin and barracuda. The area is world-renowned as a sport fishing destination and is accessible by boat or plane from Vilanculos. Happily, there's plenty of accommodation on the island.
Tourist facilities are good, with a number of upmarket lodges and exclusive resorts geared towards luxury tourism. Benguerra is a popular honeymoon destination and remains an unspoiled natural paradise, fast becoming one of the best luxury beach destinations in Africa.