Central Market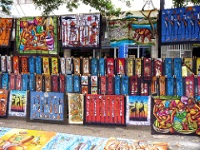 Central Market © Cordelia Persen
The Central Market spills out of a beautiful yet charmingly shabby old building. It's a hub of activity offering all kinds of goods, from fruit and vegetables, a variety of seafood, and household items, to handicrafts, basketware, and carvings.
This is a market designed to serve local needs and not tourists, making it an authentic experience and a good opportunity to see how the people in Maputo shop and what they eat. Although it's primarily a food market, one can find many interesting souvenirs and trinkets.
Vendors are ready to haggle, and you can often negotiate yourself big discounts, though knowing a little Portuguese will help. Bear in mind that the merchants will usually charge foreigners exorbitant prices, so don't be afraid to walk away and compare prices elsewhere.
It's also a good idea to have small change ready. Unfortunately, the market is a haven for pickpockets and thieves, so visitors should be very vigilant about their surroundings and conceal all valuables from view.
Address: Av. 25 de Setembro