Polana Hotel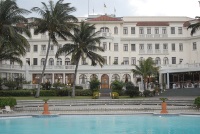 Polana Hotel © F Mira
The Polana Serena Hotel boasts one of the city's most desirable addresses overlooking the bay. The historic hotel is a majestic building, evoking the style and sophistication of times gone by with its gardens, Victorian lift, and five-star luxury.
Built in 1922, the Polana is widely considered to be one of Africa's finest old luxury hotels. If you are looking to splurge while visiting Maputo, the Polana Serena Hotel is your best bet. It's centrally located and close to many of the city's most popular tourist attractions.
There are three restaurants at the hotel: the Varanda Restaurant, which is open all day; the Delagoa fine-dining French restaurant; and the Aquarius sushi restaurant. There's also a stunning outdoor pool area surrounded by tropical gardens, as well as a casino, a spa, and other luxury features.
A sunset drink in one of its cocktail bars is a must for those passing visitors not tempted to splash out on an extravagant stay. At the very least, it is worth asking permission to stroll around the gardens and see the view.
Website: www.serenahotels.com/serenapolana/