Great Patriotic War Museum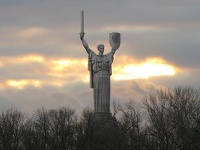 Dominated by the enormous, towering statue of the Motherland (looking like the sword-wielding sister of the Statue Of Liberty) above it, the Great Patriotic War Museum houses a fascinating collection of World War II artefacts in a Soviet-built building. Decommissioned tanks sit outside the museum, symbolically painted with flowers and nearby, another interesting statue entitled 'To the Fallen' serves as a memorial to all those who fought and died in the war. Although most of the museum notes are in either Russian or Ukrainian, they are well laid out and the displays are fascinating.
Address: 24 Lavrska Street
Website: www.warmuseum.kiev.ua
Telephone: +38 (044) 285 94 52
Opening times: Closed Mondays.