Cathedral Quarter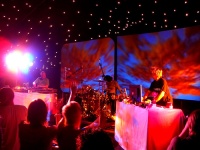 The Orb at the Cathedral Quater Arts Festival © Recycled Alien
Once the city's centre for trade and its warehouse district, the Cathedral Quarter is now the heart of Belfast's cultural and tourist hub. The district is named for St Anne's Cathedral. The cathedral itself is a beautiful Romanesque place of worship, more than a century old, which houses many art works and historical artefacts, and welcomes tourists as well as worshippers of all faiths. Four services are held every day in the cathedral.
There are some lovely examples of Victorian and Art Deco architecture in the Cathedral Quarter, as well as several galleries, dedicated performing arts venues, and good restaurants and bars. The area plays host to the Belfast Film Festival and the Cathedral Quarter Arts Festival annually, as well as a number of other entertaining events and festivals. Popular performance art venues and general gathering spaces in the Cathedral Quarter include Custom House Square (Belfast's largest outdoor venue), Writer's Square, Cotton Court, the Cathedral Gardens, and the recently opened Metropolitan Arts Centre (MAC). Given some time, the Quarter could rival Dublin's Temple Bar district for a good time in Ireland. Many tourists choose to find accommodation in the district, particularly those interested nightlife.
Another must-see in the trendy Cathedral Quarter is the Crown Liquor Saloon, which is one of the most famous bars in Northern Ireland. A classic example of a Victorian 'gin palace', the Crown has undergone several restorations and refurbishments in its 130-year history, and today stands as beautifully finished as ever before, having lost none of its old-world charm.
Address: City centre, between Royal Avenue and the Dunbar Link.
Website: www.cathedralquarterbelfast.com