Belfast Zoo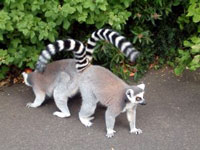 Ring Tailed Lemurs at the Belfast Zoo © www.sxc.hu
The Belfast Zoo is packed with animals from all over the world housed in a range of habitats, and offers a fun-filled day out for the whole family to enjoy. The zoo is home to more than a thousand animals covering something like 150 different species. Animals in the zoo include bears, lions, a variety of monkeys, seals, cheetahs, lemurs, snakes, ferrets, kangaroos, wolves, tortoises, tigers, and gorillas. There is a separate bird park, containing many exotic and rare birds. The African animals, including elephants, zebras, meerkats, porcupines, and a large herd of giraffes are very popular with visitors.
Another highlight is Rainforest House, a walk-through exhibition containing fruit bats, among other things, in a tropical landscape. The zoo also hosts a number of exciting events throughout the year, such as reptile displays, birds of prey exhibitions, and more, and has active breeding and conservation projects. There is a cafe and gift shop at the zoo, as well as picnic tables, a play park for young children, and a farm. There are good walking trails and the Belfast Zoo, located on the side of Cave Hill, even offers some great views over the city. The location on the hill does mean that some areas can be quite steep and perhaps difficult for those with mobility issues.
Address: Antrim Rd, Belfast, UK.
E-mail: info@belfastzoo.co.uk
Website: www.belfastzoo.co.uk
Telephone: +44 28 9077 6277
Opening times: Monday to Sunday, 10am-4pm.