St George's Market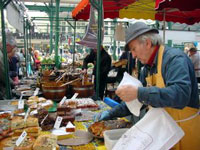 St George\'s Market © www.sxc.hu
Built between 1890 and 1896, St George's Market is one of the city's oldest attractions, and the last remaining Victorian covered market in the region. After painstaking (and expensive) restoration, the market has reopened. It is considered one of the best markets in the UK, having won many awards locally and nationally. On Fridays, the Variety Market, as the name suggests, offers a range of different items from antiques to clothes, and is also famous for its fish market. The Variety Market hosts about 248 stalls and visitors can find books, crafts and food and pretty much anything else. The City Food and Craft Market is on Saturdays, and offers the freshest local, international and speciality foods, as well as crafts, flowers, plants, art, pottery and glass and metal work. There is usually live music at the market, so that visitors can shop to the jolly strains of local musicians. The Sunday Market is a mixture of the other two markets, also offering a staggering array of goods. St George's Market also hosts a special Christmas craft market every year during the festive season. The market is probably the best place in Northern Ireland to shop for souvenirs!
Address: May Street
E-mail: markets@belfastcity.gov.uk
Website: www.belfastcity.gov.uk/stgeorgesmarket/index.asp
Telephone: (028) 9032 0202
Transport: Free market shuttle-bus runs every 20 minutes between the city centre and the market
Opening times: Variety Market: Fridays from 6am to 2pm; City Food and Craft Market: Saturdays from 9am to 3pm; Sunday Market: Sundays from 10am to 4pm.
Admission: Free