Giant's Ring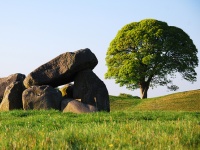 Giant's Ring © robertpaulyoung
The fascinating and mysterious Giant's Ring, in Ballynahatty, near Shaw's Bridge, is made up of a circular enclosure nearly 656 feet (200m) in diameter, with five entrances, and an older Neolithic passage tomb dating back to roughly 2,700 BC (meaning that it predates the Egyptian pyramids!). Although the exact purpose of the henge is not known, some say that it served as a meeting point and ritual area, and several packages and urns full of bones have been excavated in the surroundings.
There are beautiful views across the Lagan Valley, and the Ring is a favourite spot for locals and tourists alike to relax, picnic, cycle, or walk. Similar ancient monuments can be found in Britain and Ireland, but Giant's Ring is one of the finest of its kind, evoking a powerful sense of mystery. There are some glorious walking trails in the area, including the Giant's Ring Path, which takes walkers through the beautiful countryside of Minnowburn and Ballynahatty, beginning in the car park by Minnowburn Beeches. This trail takes about two hours and is a circular route, which will loop back to where you left your car. Giant's Ring is a very short drive from Belfast, and should not be confused with the famous Giant's Causeway.
Address: Ballynahatty, near Shaw's Bridge.
E-mail: minnowburn@nationaltrust.org.uk
Website: www.nationaltrust.org.uk/minnowburn/trails/minnowburn-giants-ring-trail
Telephone: +44 28 9064 7787
Transport: Visitors should take either the 13D or 513 bus from Europa Bus Centre in Belfast, get off Malone/Milltown Road stop, and walk from there.