Georgia Aquarium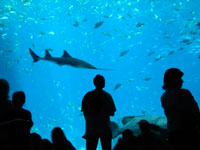 Georgia Aquarium © Angela Grider
The impressive Georgia Aquarium is the largest of its kind and boasts over 100,000 animals from 500 species. A range of different environments play host to fascinating animals from around the world, from whale sharks and manta rays, to sea lions and sea otters, penguins, sharks and a riot of colourful fish. The Aquarium also has a 4-D theatre that features an animated 3-D film, interactive seats and live actors; a café and the Ocean Ballroom for special events. A popular attraction is the Dolphin Tales show, which features choreographed musical performances with both human and animal stars.
Address: 225 Baker Street, Pemberton Place
E-mail: visitorservices@georgiaaquarium.org
Website: www.georgiaaquarium.org
Telephone: (404) 581 4000
Transport: The Aquarium is connected to the Five Points MARTA Train station by bus.
Opening times: Sunday to Friday 10am-8pm, Saturday 9am-8pm. Extended hours apply during holidays.
Admission: $35.95 adults, $29.95 children 3-12 years. Ticket prices vary according to season, check the website for specific dates. Free audio tours are available.