Dom Cathedral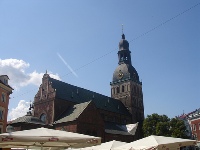 Dom Cathedral © anaru
Dating back to 1211, the red brick Dom (or Dome) Protestant Cathedral is a highlight of the historic centre of Riga. The cathedral is situated near the Western Daugava River and boasts an incredible organ with over 6,500 pipes built in 1844, stained-glass windows and a beautifully whitewashed interior. There are regular concerts held on the organ, and the cathedral also has its own boy's choir that gives regular performances. A great historical sight in Latvia, that earns rave reviews from all who experience it.
Address: Herdera laukums 6, Centra rajon
Website: http://www.doms.lv/index/
Telephone: +371 67 227 573
Opening times: Open daily: 10am to 5pm.
Admission: Free