Malt Whisky Trail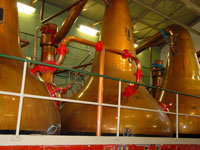 Whisky still © Finley McWalter
The Grampian Highlands area is famous for its delicious malt whisky, and the best way to explore this long-standing tradition is by following a whisky route (self-drive or guided) to eight different distilleries, including the Glenfiddich Distillery that was started in 1887. Visitors can learn about the age-old process of coaxing different smells, tastes and colours from a mixture of yeast, barley, peat and water, and take tours of different distilleries. Some distilleries can only be visited with advanced bookings, and usually offer tastings. Glenfiddich, the most famous and popular, is worth visiting alone if you don't have time for a full whisky tour. The renowned distillery offers three different tours: the Classic Tour, which is a fantastic introduction to the art of whisky making, takes an hour, includes tastings, and is free of charge with no advance booking required; the Explorers Tour takes an hour and a half, including a more extensive tour and tasting session, and should be booked in advance; the Pioneers Tour, lead by the senior guide, provides a three hour immersion in the world of the distillery and will delight connoisseurs, affording the chance to taste whiskies up to 30 years old.
Address: Glenfiddich Distillery: Dufftown, Banffshire
E-mail: info@glenfiddich.com
Website: www.glenfiddich.com
Telephone: (0)1340 820 373 (Glenfiddich)
Opening times: Glenfiddich: Open Monday to Saturday from 9.30am to 4:30pm, and on Sundays from 12pm to 4.30pm
Admission: Tour prices at the Glenfiddich Distillery vary: the classic tour is free; the Explorers Tour is £10; and the Pioneers Tour is £75.