Qin Terracotta Army Museum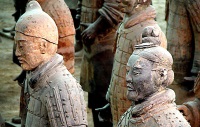 Terracotta Soldiers © Peter Morgan
In 1974, a group of peasants digging a well in Lintong District unearthed fragments of a life-sized warrior figure. Further excavation revealed several timber-lined vaults filled with thousands of greatly detailed terracotta soldiers, horses and chariots: an entire army assembled in position to follow their Emperor Qin into eternity. The pits are now open to public viewing and thousands of visitors flock to gaze at the stunning array of figures with their vivid facial expressions.
The Terracotta Army Museum consists of the original pit that was discovered in 1974, which has been enclosed to preserve the ranks of 6,000 soldiers found there. A second pit, containing 1,400 figures of cavalrymen, horses and infantrymen, and 90 wooden chariots, is also part of the museum.
Visitors can also see Qin's Mausoleum and view almost 100 sacrificial pits containing the skeletons of horses buried with him. There are also about 20 tombs holding the remains of his counsellors and retainers. The emperor's tomb itself is under a 249-foot (76m) high mound that has not yet been excavated, but is believed, according to historical records, to have contained rare gems and other treasures.
Website: www.bmy.com.cn