Salar de Uyuni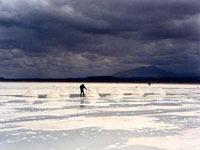 Salar de Uyuni © Judith Duk
Covering an area of 4,680 square miles (12,121 sq km), Salar de Uyuni is the world's largest salt flats, set at an elevation of 11,970ft (3,650m) and filled with an estimated 10 billion tons of salt. With picks and shovels the local people harvest the salt from the lake that once covered most of southwestern Bolivia.
This region is one of the most spectacular natural attractions in Bolivia and a photographer's delight. It is a surreal landscape combining salt pans, wind-eroded rock formations, and wandering llamas in a completely unspoilt region.
In the middle is Isla de Pescadores, a landmass appearing as a mountain out of the white nothingness, covered in towering stands of cactus. Laguna Colorada and Laguna Verde are other isolated marvels. One a fiery-red and the other a deep blue-green, these lakes are inhabited by flamingos and surrounded by extinct volcanoes. Nearby Sol de Mañana reeks with the smell of sulphurous gases from the geysers, fumaroles and bubbling mud pools.
The village of Uyuni, to the southeast of the Salar, is the best base from which to explore the area and tours can be arranged from here. 'Salt Hotels' around the periphery of Salar are a unique form of accommodation where everything (walls, furniture, etc.) is made from salt blocks cut from the flats.