Cours Saleya Food and Flower Market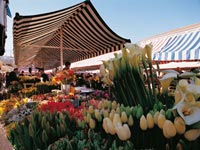 Nice's most famous market area, the Cours Saleya, bustles with activity every day and is a riot of colour and fresh smells. Cours Saleya is the famous promenade in the southwest of Vieux Nice. A wonderful attraction for visitors, and beloved by locals, the market is packed with flowers, fresh produce, souvenir shops and sidewalk cafés. On Mondays the flowers and fresh produce disappear and instead the area hosts a large flea market and an antiques market; even if you're not looking to buy anything you can still enjoy the food and soak up the vibrant atmosphere. The promenade and square which house the stalls are impressive too and the backdrop of venerable of buildings contrasts pleasantly with the riotous colour and frivolity of the market. You'll get some great photo opportunities strolling the promenade. It is best to arrive as early as possible to enjoy the market before the hordes descend. Also, be sure to have plenty of change and small bills on you because the merchants do not like to break large bills and may refuse your purchase if they don't have sufficient change for you.
Address: Between Place Massena and the Old Town
Opening times: Tuesday to Sunday from 6am. Monday flee market 6am to 6pm.