Uluru - Kata Tjuta National Park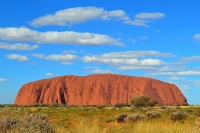 Uluru, formerly called Ayres Rock © ptwo
Formerly known as Ayres Rock, Uluru rises from the surrounding plains, protected within the Uluru - Kata Tjuta National Park, and belongs to the Anangu Aboriginal people, for whom it holds a special spiritual significance. In an isolated spot 280 miles (450km) from Alice Springs, the power of the rock draws hundreds of visitors taken on tours by Aboriginal guides who explain the monolith's importance in Aboriginal culture. A visit to this monolithic rock, the world's greatest, is an awesome experience. It is composed of a type of sandstone that has been exposed through folding, faulting, the erosion of rock and infill. At the base are caves, inlets and overhangs formed by chemical degradation and erosion.
Some opt for the 1,142ft (348m) climb to the top, which takes about 45 minutes and is not for the faint-hearted; however, it should be noted that for spiritual reasons the Anangu people request that visitors not climb the rock. Visitors should try to view Uluru at different times of the day - part of the magic of the rock is its constant colour changes in different lights, particularly at sunrise and sunset. Visitors can take a camel tour of the Outback at Uluru, or enjoy an unforgettable flight in a light aircraft or helicopter for a bird's eye view of the monolith.
About 19 miles (30km) from Uluru is another fascinating geological formation on the desert landscape. Known as Kata Tjuta (formerly known as the Olgas), these comprise 36 domes of red-brown earth, the tallest of which, Mount Olga, is 656ft (200m) taller than Uluru. There is a range of accommodation at Uluru, from luxury resorts to campsites. There is also an Aboriginal cultural centre and an arts and craft centre, along with restaurants, swimming pools, galleries, a supermarket, a medical centre and a post office.
Website: www.environment.gov.au/parks/uluru