Cathedral of St Nicholas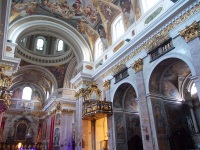 Cathedral of St Nicholas © Janez Drilc
The magnificent Baroque cathedral, dedicated to the patron saint of fishermen, dates from the early 18th century, but was renovated and had beautiful carved bronze doors added for the Pope's visit in 1996. The doors depict the development of Christianity in Slovenia, and give way to a richly ornate interior below the impressive cupola and stunning Giulio Quaglio frescoes.
Address: Dolnicarjeva 1
Website: lj-stolnica.rkc.si
Telephone: +386 (0)1 234 2698
Opening times: Daily 7am-12pm, and 3pm-7pm.