Ljubljana Castle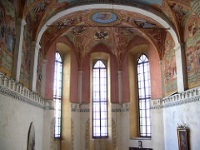 Ljubljana Castle interior © Martin Belam
This imposing landmark towers over the city, offering spectacular views of the Ljubljana River and old town skyline, with the distant Alps providing a stunning backdrop. A steep cobbled street winds its way from the old town to the medieval fortress, which originally dates back to the 11th century. The castle complex includes a museum, restaurant and chapel, and access to the castle is provided by a scenic funicular ride. Visitors can admire the view from the castle's impressive tower, stroll through the tranquil grounds, learn about Slovenian history at one of the museum exhibitions, or attend one of the many cultural events hosted at the fortress.
Address: Grajska Planota 1
Website: www.ljubljanskigrad.si/en/the-ljubljana-castle/
Telephone: +386 (0)1 306 4293
Opening times: Hours vary according to season, check the website for specific dates.
Admission: Tour prices for the castle and funicular ride start from €12,00 (adults) or €8,40 (children). Concessions are available.