Ljubljana Castle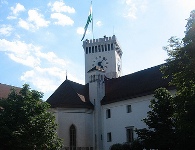 Ljubljana Castle © pululante
The imposing landmark castle towers over the city, offering spectacular views of the Ljubljana River and the attractive skyline of the old town, with the distant Alps providing a backdrop. The medieval castle with its impressive tower, which was added in the 19th century, is linked to the old town by a steep cobbled street. The castle complex includes a museum, restaurant and chapel. Access to the castle is provided by a scenic funicular ride, which is a great way to get a birds-eye view of Ljubljana.
Address: Grajska Planota 1
Website: www.ljubljana.info/ljubljana-castle
Telephone: +386 (0)1 232 9994
Opening times: Hours vary according to season, check the website for specific dates.
Admission: Tour prices start from €6.50, or €8.50 including the funicular ride. Concessions are available.